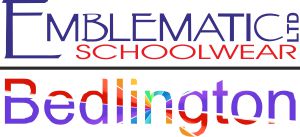 Bedlington Schoolwear shop opening times:
Winter Opening Hours

: (Current Hours)
Wednesday:

12pm - 5pm

Closed
Saturdays:

10am - 4pm

Closed
(September - June)
Summer Opening Hours

:
Monday to Friday: 9am - 5pm
Saturday: 10am - 4pm
Sunday: closed




We offer extended full time opening hours during the summer months (June-September Only)
Telephone (01670) 820 262 (This number can only deal with queries for the schools in the Bedlington Store Menu at the top of this page, Any other School or queries must Contact Us HERE)
Please note. if you have problems accessing our shop, during opening hours, please contact us.
We only stock the schools at our Bedlington Branch listed in the "Bedlington Store" Menu at the top of this page.