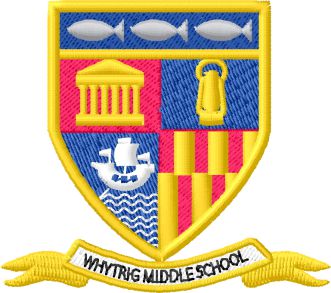 Whytrig Middle School          

Please find below details of our school uniform:
   • Black skirt or black trousers (not cords, track suit bottoms, jeans, leggings or jeggings). Skirt style should be suitable for school (i.e. not too tight or too short) and should be worn with white socks or black tights.
   • School burgundy sweatshirt with school badge on left breast.
   • White school shirt or blouse (not polo shirts).
   • School tie (navy and gold stripes).
   • All black school leather shoes (not canvas shoes). If boots are worn they should be tucked under trousers (not UGG style boots).
   • Dark or white socks.

PE Kit
   • White Round Neck T shirt with Whytrig Middle School crest (or plain white round neck T-shirt)
   • Black shorts
   • Black socks
   • School black round neck sweatshirt

Optional items for PE
   • School black rugby shirt
   • School black hoodie

Items available from school only
   • Replacement diary (first one each year supplied free)
   • Locker
   • Water bottle

A small stock of items are available from school office for pupils joining us during the school year. School ties are also available.

It is strongly recommended that all clothing should be clearly named.
Note: If you want your order for the start of the September term, please order before 1st August to guarantee your order will be delivered in time. 

PLEASE NOTE.
THE COLLECT OPTION IS NOT AVAILABLE FOR YOUR SCHOOL WHEN ORDERING ONLINE. BUT YOU CAN COME TO OUR NEW EMBLEMATIC SCHOOLWEAR SHOP AND BUY YOUR UNIFORM DIRECT OVER THE COUNTER. ALL ORDERS PLACED ONLINE MUST BE PAID WITH POSTAGE AT TIME OF ORDERING.
The processing time for orders will increase as we head into the summer months. Please be aware that during our absolute peak time, orders can take up to 4 weeks to process. Occasionally we sell out of certain garments which may delay the processing of your order, however we always endeavour to get your order to you as quickly as possible.