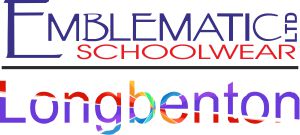 Longbenton Schoolwear shop opening times:
Monday : 9am - 5pm
Tuesday : 9am - 5pm
Wednesday : 9am - 5pm
Thursday : 9am - 5pm
Friday: 9am - 5pm
Saturday: CLOSED

Sunday: CLOSED
Please note. if you have problems accessing our shop, during opening hours, please contact us.

Contact Us HERE or ring (0191) 2701449
*Please be aware not all schools listed online are available in the schoolwear shop. Please check before making your journey.
We only stock the schools at our Longbenton Branch listed in the "Longbenton Store" Menu at the top of this page.