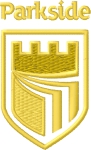 Parkside Academy Uniform
We consider that uniform is important for several reasons:it provides pupils with a sense of identity and pride in their school. It enhances the appearance of pupils and therefore the reputation of the school it helps to instil in pupils a sense of purpose when they put on their uniform in the mornings it overcomes the problem for both parents and teachers of what is or is not suitable for school.   At the same time, we are anxious that the uniform should not cost you any more than the clothing you would normally buy for your children.
The standard Academy uniform is as follows:
Black Blazer (with school badge attached to left breast pocket) (Compulsory)
White formal school shirt with a collar (not polo shirt or fitted style) – to be 'tucked in' to trousers/skirts. It is an expectation that top shirt buttons will be fastened.
Parkside school tie (Compulsory)
Plain black trousers (not jeans, low-slung or 'skinny fit' styles) or plain black formal school skirt (not tube skirts, Lycra skirts, fashion skirts etc – must be knee length and not tight). No leggings, footless or patterned tights. 
Formal, plain black school shoes (not trainers, trainer style shoes, plimsolls or boots such as Rockport, Timberland, UGG etc.) 
Plain black belt, no more than 3 cm wide, if necessary (no large or ornate buckles, studs etc.). 
Optional items: Black Parkside Sweatshirt (with Parkside logo) – no other sweatshirt, sweater, cardigan or jumper should be worn. Hoodies are not allowed. Sweatshirts are not to be worn in summer term. 
PE kit: · 
Girls : School P.E. Polo Shirt, Shorts or Skort and Socks (Compulsory)
Boys: School P.E. Polo Shirt, Shorts and Socks (Compulsory)
Optional Items: Outdoor Rugby Top, Black Shorts, Base Layer, Black Tracksuit Bottoms and New Rain Jacket.
It is advisable to wear shin pads during contact sports such as rugby and football, and also to wear gum shields during rugby activities.
All items will be sent to your preferred address - Free of Charge.
---
Orders are processed daily, and we shall endeavour to get the order dispatched ASAP to you.
Please note that some items maybe supplier dependant with regard's to availability.
---

---
This School is only stocked in our warehouse and is not available to purchase instore.
---
SEPTEMBER BACK TO SCHOOL ORDERS
School Uniform cut off date for back to school is midnight 21st July 2024, we will do our upmost to get your order delivered before the start of term, subject to supplier stock availability.
Orders after this date are not guaranteed and can take over 28 Days due to supply and demand.